Marcia A. Testa, M.P.H., M.Phil., Ph.D.

Chairman and faculty founder of Phase V Technologies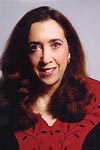 Dr Testa is the Chairman and Founder of Phase V and serves as a Senior Consulting Scientist. She holds a full-time faculty appointment as Senior Lecturer on Biostatistics at the Harvard School of Public Health (HSPH). Go to Dr. Testa's Harvard Website for further information Dr. Marcia A. Testa- Harvard
She received her B.A. degree in Psychology in 1974 from Connecticut College and her M.P.H.'76, M.Phil.'77, and Ph.D.'80 in Epidemiology and Public Health (Biostatistics) from Yale University Schools of Medicine and the Graduate School of Arts and Sciences.. Before moving to the Harvard faculty in 1987, Dr. Testa was an Associate Professor at the University of Connecticut School of Medicine (1979-87) where she was designated by the University of Connecticut Research and Development Corporation to be Phase V's Founder and Chairman. An American Public Health Association (APHA) member for over 25 years, she served on the Statistics Section Council, was the 2003 Secretary, and is currently the 2004-2005 APHA Statistics Section Chair. Dedicated to promoting the practice of quantitative methods in public health, she received HSPH's highest teaching award in 1993 (Roger L. Nichols Excellence in Teaching Award) and now teaches courses in biostatistics and health outcomes research. Her research explores methodologies for the analysis of expanded patient outcomes (health status, quality of life, satisfaction and trust) with particular emphasis on cardiovascular disease, HIV and diabetes. While pursuing academic interests, she has been actively involved in translating research into practice and received the 1995 Donald E. Francke Award for Best Publication from the Drug Information Association She serves on numerous professional organizations, scientific and editorial review boards including the American Diabetes Association. Dr. Testa has over 80 peer-reviewed publications and 200 scientific presentations.